.
Romantic Rhine
The idyllic river landscape of the Rhine Valley, with its wooded slopes, steeply terraced vineyards terraces and impressive rock formations, offers many opportunities for enjoying nature.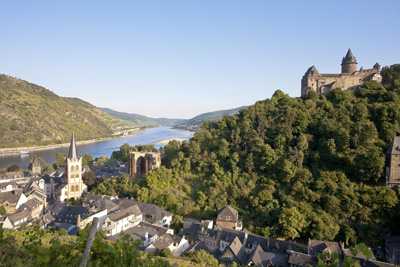 The Rhine Cycle Route is approximately 120 km long and crosses between both banks of the Middle Rhine valley. The fantastic views of the river, the castles and peaceful locations along both banks of the Rhine always encourage cyclists to stop for a break or sightseeing.
On the left bank of the Rhine, the Rhine Cycle Route has been completed along its entire length from Bingen to Remagen as a separate cycle path, making it a very easy and convenient route to use: Sometimes it runs directly along the banks of the Rhine, sometimes it passes through towns on the Rhine promenades and sometimes it is a separate cycle path running alongside the road. On the right bank of the Rhine between Rüdesheim and Kestert, the cycling is complicated by a few gaps. Until the entire Rhine Cycle Route has been completed along the right bank, individual sections can be bypassed by ferry or by train.
Riding the Rhine Cycle Route is one of the best ways to enjoy the natural and cultural treasures of the Rhine valley. Along its journey, several riverside cycle routes also lead out of the side valleys such as the Nahe, Moselle, Lahn and Ahr to join the Rhine Cycle Route, offering further opportunities for riverside cycling tours.


Romantischer Rhein Tourismus GmbH
An der Königsbach 8
DE-56075 Koblenz
Tel.: +49 261 973 84 70
info@romantischer-rhein.de
www.romantischer-rhein.de
---
.